Get Started
Cooking School offers six live classes every month and an extensive video library, including recipes and cooking techniques.
Starts at only $19.99/ monthly

the cooking
School
The London Chef is dropping knowledge on your kitchen counter. As part of your subscription you will enjoy these incredible features.
live online


Cooking Classes
SIX CLASSES EVERY MONTH
Join us for one of our six unique classes offered each month, designed to help develop your meal repertoire and cooking techniques.
cooking school

Library

Your subscription will allow you to access our entire content library with over 100 videos.
NEW VIDEOS ADDED WEEKLY
What can you expect from our library?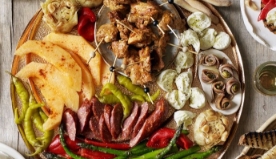 Full Meals
You'll find everything you need to prepare an entire meal from start to finish.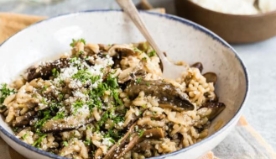 Individual Dishes
Just want to learn how to prepare a single dish? We will walk you through each step.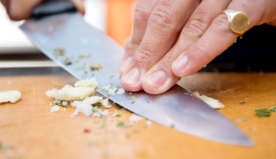 Essentials
A great way to improve your techniques, skills and basic cooking fundamentals.
Dan Hayes is the London Chef, a classically trained French chef most inspired by creating Mediterranean dishes.
For the past decade, he has expanded his philosophy around great food in Victoria, BC, and seen on APTN as the co-host of Moosemeat and Marmalade, a show bringing two very different chefs together to explore culture, culinary traditions and great food.
Dan has worked with talented chefs in Michelin-starred restaurants throughout Europe, styled food for Britain's leading food photographers, and consulted on restaurant openings in London and the Canaries Isles. While teaching a class in London over a decade ago, Dan met Micayla, they fell in love, got married, and returned to Micayla's home, Victoria, BC. Together they started a business and a family. Fast forward a decade, the London Chef is Victoria's premier cooking school, having taught over 2000 cooking classes to an audience of over 100,000 students.
Dan's approach with Cooking School focuses on educating his students on how to cook and not how to follow a recipe. His goal is to showcase a better understanding of using great ingredients and methods around cooking, so you'll enjoy being in the kitchen as much as he does.
"Dan's style is fun and not fussy, but the flavours – the flavours! Each dish is delicious."
"Not only does Chef Dan teach us how to create delicious recipes, giving pro tips as we go, he is also charming and entertaining!"
"Dan is a talented Chef who makes preparing delicious meals from scratch easy & fun. Between his engaging personality, patient instruction, and holistic approach to food, it is a unique culinary experience not to be missed!"
"Always entertaining, always fun, always a little sassy and always SO knowledgeable! Always an unforgettable cooking experience. Our house smells amazing after a class, and the food – delicious!"
Get Started
Starts at only $19.99/monthly
STARTING AT ONLY $19.99/monthly